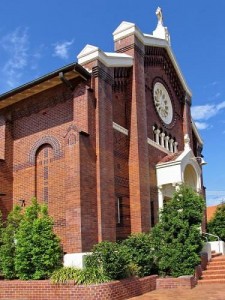 The St Agatha's Parish
The Earliest days
Clayfield was originally part of Holy Cross Parish Wooloowin. Towards the end of 1917 Archbishop Duhig paid £1,315 for about three acres of steeply sloping land fronting Oriel Road to establish a Mass centre. The land had belonged to Mr J B Charlton whose house was at the top of the hill in Enderley Road near Crombie Street. Mr T R Hall was entrusted with the task of drawing up plans for a building that would serve first as a church, and subsequently as a school. Tenders were called and the building contract was let to Mr Ernest Taylor of Morningside. The foundation stone was placed in position by Archbishop Duhig on 11 August 1918 and the building was blessed and opened for worship on 20 September, 1918.
The Archbishop named the church after St Agatha as she was the patron saint of the 6th century church attached to the Irish College in Rome where he and his two predecessors were educated. Present at that Sunday afternoon ceremony were Father Walsh (Wooloowin), Father Jordan (Nundah), Father Gowan (Hamilton), Father Dorrington (South Brisbane), Father McKenna (Rector of St Leo's College) Hon F McDonnell MLC and many others from the surrounding district. The new Mass centre was under the care of Father Richard Walsh and his curate who would celebrate Mass on Sundays and sometimes on weekday mornings. Sisters of St Joseph from Nundah Parish walked to Clayfield from their convent to take catechism classes for the children, most of whom attended Eagle Junction State School. From these modest beginnings the parish of St Agatha's Clayfield grew. The community took on the challenge of major building projects over the years but always kept in mind that the heart of the parish is the communal celebration of the Eucharist, the sense of worship, fellowship and mission, not the structures rising on the hillside land.
Rev. Father Francis O'Connell 1921-1939
In March 1921 Father Frances O'Connell arrived in Clayfield. He was the first Parish Priest of the newly formed parish, which until that time had been part of the parish of Wooloowin. His early work in the parish convinced him that the parishioners had serious need of a school of their own. He approached the problem by undertaking the construction of a new church and converting the old wooden church to a school. The old church at Clayfield had only been built in 1918, being completed by the end of September that year. It was a wooden structure halfway up the hill towards the site of the present St Rita's. Father O'Connell began an ambitious project – the second St Agatha's, a large brick church to cost £10,000, and overlooking from its raised position the quiet avenue of Oriel Road. Behind it the steep hillside crowned with the stately mansion of 'Stanley Hall' towered. Half way up perched the old St Agatha's, built in wood and now destined to serve as a school. The church property, hilly, steep and as yet only partially cleared, extended around this building. The Presentation Sisters had been approached as early as 1915 by Archbishop Duhig to open a school for boys and girls in Clayfield. In 1925 the new St Agatha's church was completed and the Sisters were persuaded by Fr Frank and the Archbishop to come to Clayfield to start the school. The first Sisters to arrive were Mother Mary Patrick Madden, Sister Mary Ignatius Kelly and Sister Mary Bernadette Harman. Initially the community of sisters occupied the presbytery while Fr O'Connell lived in a rented house, and this remained the case until the sisters acquired "Stanley Hall" in September 1926. St Agatha's school was opened on 27th January 1925 and 120 pupils turned up. By 1926, attendance had reached 230. On 5 April 1925 the new brick St Agatha's Church was opened and blessed by His Grace Archbishop Duhig. St Agatha's was large enough to accommodate 500 people. The early development of St Rita's and St Columban's was also entwined with its parish priest for Fr Frank assisted and encouraged in both these projects, but their stories are beyond the scope of this article. Fr Frank died in the year of his silver jubilee, on 28th December 1939 at age 49, in part attributable to his heavy smoking.
Rt Rev Monsignor John English 1940-1968
Rev Monsignor John English was appointed as the next parish priest at St Agatha's. During his time at the parish , the final extension of the church and the sanctuary were completed. He was a popular PP but was also a man that had some very strong dislikes. He was known to say at the end of wedding ceremonies "I'll thank you for not throwing confetti in this lovely church or in the grounds. If you want to throw confetti, throw it on the carpet of the reception lounge and see how you get on". To ward off people leaving mass early, he would say "If you leave mass early you are like Judas. He left the Last Supper before it was finished". Fr English became ill during Easter of 1968 and died early Easter Sunday morning.
Rev Father Vincent Rowan 1968-1989
During his "watch" Fr Rowan had the difficult task of implementing the changes instigated by the Second Vatican Council. As is the case with any change, this was not received well by some. He also oversaw the building of the new school to replace the old wooden structure. The Parish Pastoral Council was formed during his time as well as the very successful Clayfield Care. Fr Rowan suffered a stroke after Easter 1989 and so he retired as pastor.
Father Bernard Wilson 1989-1998
During the time when Fr Wilson was parish priest at Clayfield, a number for liturgical programs were instituted and fostered. These included greater involvement of Eucharistic ministers, more varied music during liturgies, RCIA, changes in the Rite of reconciliation, the introduction of Children's liturgy, and community, rather than school-based programs for the preparation of children for Reconciliation and First Holy Communion. In 1992, the parish Finance Council was established. On the more physical side of things, he oversaw substantial maintenance upgrade to the church including painting of the exterior of the church during 1990 and again in 1997. There were also renovations to create a new parish office, meeting room, interview room, washroom, toilet, garages and driveways. He was also an organiser of a parish-based pilgrimage to the Holy Land, but was himself unable to attend due to an accident where he sustained multiple fractures. Due to these injuries he retired as PP of Clayfield in April 1998, but was to be remembered as a community builder within the parish.
Very Rev Dr Adrian Farrelly 1998-2015
In bricks and mortar terms, Fr Farrelly has recently overseen the completion of modifications to the entry of the church, with refurbishment of the library and sacristy, as well as the creation of the meeting area, aimed at being a focus for after-mass gatherings. He is a great believer in the development of a stronger parish community here at St Agatha's.
He is also known for his great sermons and his warm welcoming approach to all. Although pastor at St Agatha's, he is not technically the parish priest, but rather is an administrator. He works a few days a week at the Archdiocese head office where he attends to matters of cannon law. Despite this, Fr Farrelly has certainly "come home" with his appointment at St Agatha's, as he was a primary student at the school and received his first sacraments here.
(Source: "The First 80 Years – St Agatha's Parish Clayfield" 1998)
Fr Anthony Mellor 2015-2018
Father Anthony was ordained in 1997 and is no stranger to parish life and no stranger to Brisbane and Queensland. He has served in many parishes within the Archdiocese from Ipswich, his first appointment, then as parish priest in Gayndah and Maryborough.
In 2005 Fr Anthony was appointed Administrator of 6 parishes, Ashgrove, Bardon, Herston, Newmarket, Red Hill and Rosalie (which was later to become the Jubilee Parish). With north of the river pretty much covered, Father Anthony was sent to Rome (Italy) in late 2006 to study theology, and he is now nearing the completion of his Doctorate in Theology. Returning from Rome, Father Anthony has served as an Administrator of the parishes of Birkdale and Hendra, and most recently at Victoria Point. While writing his doctorate, Fr. Anthony also helped out on weekends at The Gap parish.
In addition to Parish life, and studying, Father Anthony has worked in Adult Education. He is also appointed one day a week as Academic Dean of Holy Spirit Seminary and two days a week as Theological Advisor to Brisbane Catholic Education.
Fr Kevin Smith 2019
Fr Biju Thomas 2020 – 21
Fr Neville Yun 2022 – Present
St Agatha's Church Heritage Citation can be found below.